Free Brake Month This October At Ulmer's Auto Care!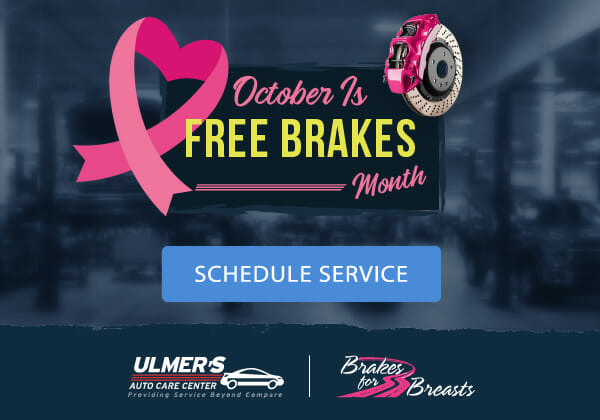 Ulmer's Auto Care along with 100s of other Independent Auto repair shops across the US are raising funds for a breast cancer vaccine as part of the Brakes for Breast fundraiser. 2020 marks the ninth year that Ulmer's Auto Care will be participating in Brakes For Breasts.
As part of the fundraiser in October, Ulmer's Auto Care will be providing customers with FREE  brake pads or shoes. You the customer only pay the labor and any other ancillary parts necessary to complete the brake job. At the end of the month-long event Ulmer's Auto Care will then donate 10% of the proceeds from completed brake jobs directly to the Cleveland Clinic Breast Cancer Vaccine Research Fund. 100% of what we donate goes directly to research!
Together we can put the brakes on breast cancer!