Benefits Of Auto Repair Services For Your Vehicle
Introduction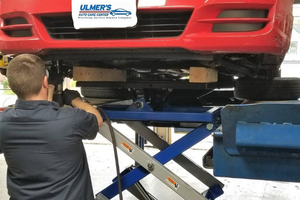 Buying a car can prove to be a significant investment for you. However, the only way to make the most out of your investment is by regularly maintaining and servicing your car. But what exactly does regular maintenance entail? Maintaining and servicing your vehicle involves performing routine checkups on your car, just like when you visit your doctor. The more frequently you undertake these auto repair services, the better. Such checkups help in identifying problems before they escalate into major ones.
While a few people enjoy undertaking repairs on their own, they should only do so when they have the proper know-how. Nevertheless, if you aren't car savvy, it's best to leave your vehicle in the hands of auto repair professionals in Cincinnati & KY who have the skills and expertise to do the job right the first time.
Ulmer's Auto Care is one such auto repair shop that offers high-quality services at an affordable cost to all its customers. So, keep reading to learn about the benefits of these auto repair services.
Highly Skilled Professionals:
Bringing your car to a professional auto garage proves to be the best decision because the technicians working there are industry-certified and highly skilled. During their work, you will notice that they employ state-of-the-art diagnostic equipment to quickly identify the root of the problem.
Moreover, their hands-on experience with the latest car repair technologies and their knowledge of handling all kinds of car models and auto brands allow them to manage and fix even the most complex issues efficiently. For example, when you bring your car to Ulmer's Auto Care, they rely on the latest diagnostic equipment to identify problems without any guesswork.
Equipped With the Right Tools:
As car owners, you should only let highly trained technicians work on your car because they have access to all the necessary tools and machinery for proper maintenance and servicing.
Depending on the extent of repair your car needs, technicians' tools can vary. For example, you need equipment like vacuum pumps and leak detectors to repair an air conditioning system. Similarly, you'll also need wrenches, screwdrivers, and several other items for other repairs.
These tools are usually expensive, and it would be difficult for you to purchase them independently. So, it's best to leave them to auto repair services personnel.
Latest Technology Know-How:
While some car repair shops still use old-fashioned methods to conduct repairs, most of today's top-notch car repair services rely on manual labor and use advanced tools and equipment. Going by this trend, it won't be wrong to say that modern car repair services employ new and innovative ways of diagnosing and repairing problems.
For example, if one is looking to solve engine overheating issues, technicians rely on infrared cameras to quickly identify the root of the problem. In addition, such equipment will help the technician monitor the heat levels inside your vehicle to prevent further damage.
Quality Service:
If you choose to do your repairs on your vehicle, there is no assurance that you will identify the problem correctly or fix it effectively. On the other hand, if you take it to a professional car care center, they know how to identify problems accurately.
There is no doubt that modern car repair services have the latest technology that helps them deliver high-quality performance. However, because they rely on tools and equipment capable of doing a good job, auto technicians can offer you guaranteed quality service. For this reason, it is always advisable to consult a professional car repair services provider before jumping to any conclusion about your car's problems.
Time Efficient:
Another benefit of taking your car to a professional auto repair shop is the time efficiency factor. Skilled technicians are already well-versed with the problem, unlike when you try to do the repairs yourself, where you will have to spend hours reading up on manuals and watching online videos. Because of their skills and experience, auto mechanics can easily spot the issue and start working on a solution.
This means you can get back on the road sooner than you thought. In some cases, you might even be able to get the same-day service, depending on the severity of the problem.
Personal Attention:
In today's competitive market, most businesses are about making a profit. While this is not a bad thing, sometimes customers feel that they are just another number and their needs are not considered.
This is not the case with professional car repair services. However, because they understand the importance of customer satisfaction, auto technicians take the time to listen to your concerns and address them.
They will also keep you updated on the progress of the repair work and will not proceed with any additional work without your consent. Because of the personal attention they offer, you can develop a rapport with the technician and feel confident that your car is in good hands.
Enjoy the Warranty:
Maintaining your car requires a considerable amount of effort on your part. Not only do you have to keep up with the required maintenance tasks, but you also need to be aware of potential problems that might arise.
This will help you to immediately bring your car in for repair work to avoid more prominent and more expensive problems in the future.
Most professional car care centers offer a warranty on their services. This means that if the same problem arises again or if any additional problems occur as a result of the initial repair work, the car repair shop will be responsible for fixing it without any additional cost to you.
Conclusion:
The benefits of taking your car to a professional car repair service are numerous. From quality service to time efficiency, from personal attention to the warranty, there is something for everyone. So if you are looking for the best car care for your vehicle, look no further than a professional car repair shop.
Ready to get your car serviced in Cincinnati? Contact Ulmer's Auto Care to schedule an appointment. We have a team of experienced and qualified mechanics who can quickly identify and fix the problem. Plus, we offer a warranty on all of our work, so you can be sure that your car is in good hands. So contact us today to get started!