4 Things to Do to Spring Clean Your Vehicle
From your the salt and snow that gets on and in your vehicle to how the cold affects the inner workings, winter is just plain tough on your vehicle. Now that Spring has sprung, take some time to give your vehicle a little deeper clean to get it ready for warmer weather and road trip season! Make sure to do these four things when Spring cleaning your vehicle:
1. Clean the exterior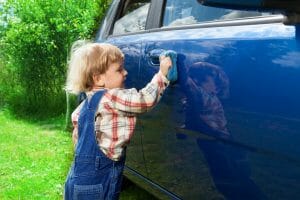 All that winter grime that was on the roads this winter ends up all over (and under) your vehicle. Make sure you give it a good wash (with the proper tools) to make it shine! While you're washing, don't forget to get underneath your car and your wheels to really do the job right.
2. Clean the interior
All that winter grime that got made your car so dirty on the outside…it's inevitably made it into your vehicle, as well. In addition to vacuuming the floors and seats, it would help to give your floor mats a good cleaning. You'll also want to make sure you dust off the dashboard and wipe down the windshield with a windshield cleaner.
3. Replace your wiper blades
You should be replacing your windshield wipers every six months, so now is a great time to do so! With the wet Spring weather coming, this safety component is even more important to your (and your vehicle's) safety.
4. Check the tires
Tires take a beating in the winter, and with wet weather and road trip season quickly approaching, you want to make sure yours are in tip-top shape. Check the tire pressure and tread to ensure ensure you stay safe on the road. Tires can affect many things, from your braking abilities to your gas mileage, so make sure they are ready to hit the road this Spring!
These four things, in addition to a comprehensive inspection, will help you stay safe on the road this Spring. Need help with any of them? Call us today, or easily schedule an appointment online!